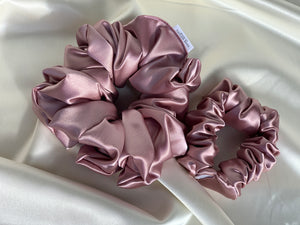 Handmade
Scrunchies and bows
From Gippsland, Australia
The Brand
Madebytaylahrose is a handcrafted hair accessories store located in Gippsland Victoria, Australia. With the goal to have functional but stylish hair accessories for all ages. All scrunchies and hair bows at Madebytaylahrose are handmade by myself ( although I sometimes get a helping hand from loved ones! ) The wide variety of accessories means you are bound to find the perfect gift for yourself or someone else.
About Me
Who is Taylah Rose?
Hi im Taylah! Madebytaylahrose is a small home based business based in Gippsland, VIC Australia. I started my business in 2014 when I was 15 years old and im so elated to see how far its come!
Each scrunchie and bow is handmade with care to ensure optimal quality. Madebytaylahrose is my fulltime job I love what I do.
Be sure to check out my Youtube channel where I post every Thursday content about making, business tips, tutorials and packaging your orders!
"Choose a job you love and you'll never have to work a day in your life"
- Confusius
Youtube
I also have a Youtube channel based around Madebytaylahrose where I share tips, tutorials, packaging videos and my personal fav VLOGS on my everyday life as a handmade small business owner.
Check it out
Whats next for Taylah?
Midway through 2020 I quit my part time job to pursue my dreams and I haven't looked back. I work for myself full time now and I consider myself a Youtuber as well!  At the moment I'm trying to build my Instagram and Youtube platforms, and of course fulfil all your wonderful orders. But in the future I would like to bring out new hair accessories products when I am able to find the time. Im also very excited to build my home so I can have a much bigger space for all my materials!
Meet me in person
Come to my markets!
I attend markets almost every weekend (when able) I have a massive variety on hand for you to purchase on the day. No waiting for items to be made and shipped! I also tend to do market specials.
For more information on when Im attending markets check out my social media pages.